#8Splaining that Grayson Allen Foul
Grayson Allen has once again found himself in the middle of an officiating controversy. Though you may have difficulty remembering, Allen has caught the ire of fans by tripping opposing players. Earlier this year, he sent Louisville's Ray Spalding and Florida State's Xavier Rathan-Mayes sprawling to the court. What followed was a Hot Take bonfire, labeling Allen a 'villain' and Duke's 'next hated white player.'
Let's set the stage…
Late in the first half, Allen had a wide open layup attempt. That attempt went awry halfway between liftoff and landing. In real-time on TV, it appeared to be an egregious flop. In real-time from press row, it appeared to be a foul and perhaps something sinister. Here's a look from TV: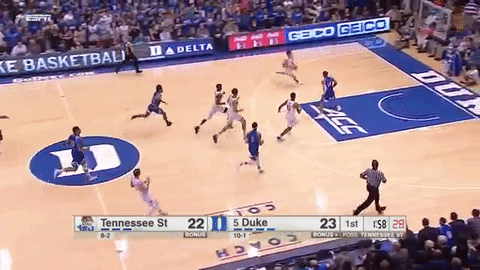 The reactions were swift and predictable.
Grayson Allen Might Have Had the Flop of the Century Tonight, And It Worked https://t.co/Fopoi3PL32 pic.twitter.com/kKEreEbFmV

— The Big Lead (@thebiglead) December 20, 2016
Anyone see Grayson Allen just miss an uncontested layup attempt and refs called a phantom whistle? nobody even breathed on him

— Sean (@SMCya21) December 20, 2016
A guy just purposefully avoided Grayson Allen at all costs and it was still a foul

— Tate Frazier (@tatefrazier) December 20, 2016
Grayson Allen is a monster!!

— Christopher (@cspencer0010) December 20, 2016
The name calling from that last tweet is a little harsh, to be honest. But let's take a closer look from another angle. Wait a second… There does appear to be contact by the opposing player on the shooter. You can argue for days the impact that contact actually has on the shot. The contact, however, can't be denied. By the letter of the law, it's a foul. The spirit of the game? Probably not.
In reality, the angst may be better placed with the officiating crew and more specifically, Les Jones. High-level players know how to use contact of any kind to their advantage. It's the officials responsibility to determine whether or not a foul occurred. In examining the video, it's clear that Jones doesn't call the initial contact. Rather, he whistles a late foul on the result. Allen misses a layup and goes sprawling to the floor as if tasered in mid-air. Clearly, there had to be *something* ….off. And replays confirm it, even if Les Jones didn't see it.
Unfortunately, this was a perfect storm. A late whistle on a strange play involving a polarizing college player on a generally disliked program. If this had happened in Chestnut Hill, chances are we actually never hear about it.
So yes, he was fouled. Yes, Grayson Allen flopped. And yet, still, that wasn't the worst officiating call of the night.
That Cam call was the worst call I've seen since the foul call Grayson Allen got an hour ago

— Travis Hancock (@TBoneWFNZ) December 20, 2016
Cam Newton penalized for taunting… pic.twitter.com/XS6VcUKcUY

— Steve Noah (@Steve_OS) December 20, 2016