by Austin Johnson
Who won?
Wake Goes Missing in Action at NC State, 72-63
How?
Clutch shots and pressure defense, assisted by some ugly play from Danny Manning's Wake Forest team.
"We won the game on the defensive end on a night when we weren't particularly shooting the ball well," NC State head coach Kevin Keatts said after the game.
State spent most of the first half jacking up ill-advised 3-pointers. The Pack made just four of 16 attempts and falling into a five-point hole going into the halftime locker room. NC State did a better job of maintaining an offensive flow in the second half. Om3r Yurts3v3n led the way offensively by making a handful of open jumpers. The offense still made plenty of poor decisions – driving into traffic with no plan and continuing to take the occasional bad 3 because why not? Ultimately, it was Wake who showed those in attendance how to properly lose a basketball game.
"We just didn't make shots," Manning said. "We got the ball to the rim a couple of times but didn't finish when we needed to. We have to continue to get paint touches and not settle."
But settle they did. The Deacs shot 28 percent in the second half which included just one made three pointer. They were also 4-of-9 from the free throw line. But thanks to Wake's ineptitude, the Pack moves to 3-3 in conference play as the schedule eases up ever so slightly in the next few weeks.
GIF:
Well, it was 80s night so…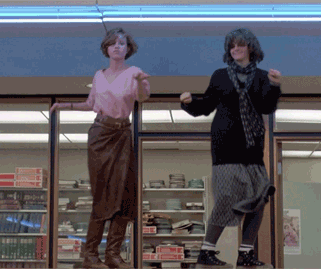 What Are People Talking About?
For the second time this year in the Triangle, Wake fell apart in the final minutes of a close game and went home with a disappointing loss. Wake didn't score after going up 63-61 with 4:30 left in the game and turned the ball over four times in that stretch. But hey at least they were dead ball turnovers.
"As turnovers go, we had a couple where we threw it out of bounds," Manning said. "As a coach, those are turnovers you like because at least you can set your defense."

— Lauren Brownlow (@lebrownlow) January 19, 2018
What Should People be Talking About?
The focus might be on how Wake went missing in action during the final minutes of the game. But credit to NC State for coming up with clutch plays again especially on the defensive end. Some of Wake's turnovers in the final four minutes were careless mistakes. But several – like the 10 second call with the game still tied – were the result of the Pack turning up the pressure defensively.
Quote x2:
"That's bad assistant coaching – when a kid is one assist away from a double double – they are supposed to tell me that." – Kevin Keatts on Braxton Beverly who finished with 10 points and nine assists.
"There's no excuse for that with the veteran guards we have on our team – we just didn't attack it the way we needed to or should have." – Danny Manning on the 10 second violation late in the game.
What's Next?
Just another top 25 team for the Pack, who hosts Miami in the coveted 'noon on Sunday' timeslot. The Pack has a chance to move above .500 in conference play for the first time since 2015.
8 is Wild:
ACC Legend Mike Gminski was on the call for the ACC Network, and now you'll never be able to look at him without thinking of this.
— Jameson (@the_Jameson) January 19, 2018