UCF @ East Carolina, 12:00PM
Dowdy-Ficklen Stadium, Greenville, NC
Pleasant temperatures in the mid to upper 60s in the morning will rise into the upper 70s at kickoff. A weak frontal boundary will be moving eastward through the area at or around game time and brings the potential for isolated thunderstorms. Rain chances are low, but you should be prepared, anyway. Better chance you wind up blackout drunk at the tailgate than wet from rain.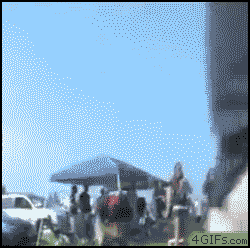 ---
Virginia @ Duke, 12:30PM
Wallace Wade Stadium, Durham, NC
Absolutely beautiful tailgate weather ahead with a crisp morning in the lower 60s giving way to temperatures in the upper 70s to near 80 throughout the game. No major issues to deal with. Except Virginia fans hanging all over your stadium after the game.
---
Wake Forest @ NC State, 3:30PM
Carter-Finley Stadium, Raleigh, NC
Plenty of sun and drier conditions with temperatures in the mid to upper 70s throughout the tailgate and temperatures hovering near 80 throughout the game. No rain to worry about as you watch this slap fight between two Atlantic Division bottom dwellers.
---
UNC @ Florida State, 3:30PM
Doak Campbell Stadium, Tallahassee, FL
Gorgeous with temperatures in the lower 80s to upper 80s from tailgate through the game. Sunshine all around with no real threat of rain. Will the Seminoles beat the Heels? Very much a real threat. Just don't get too carried away at the tailgate.