Duke lost a close one at home to FSU, while UNC couldn't get out of its own way against Virginia. NC State didn't play well and still beat the pants off Pitt. Wake Forest took the week off, kind of like they did the week prior. Here are the Week 7 Giftastic ACC Football Power Rankings!
1A. Miami
W vs Georgia Tech
Another come from behind victory for an undefeated group. The jury's still out on this group, but we'll give the team without a loss the benefit of the doubt. Just don't screw it up against Syracuse this weekend.
1B. NC State
W vs Pitt
It looked like NC State was primed to drop their first ACC game on the road against an inspired Pitt team. Except Pitt is bad and State won going away. They get a week to rest before heading to South Bend.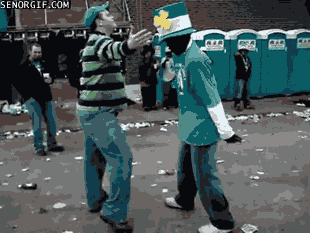 3. Virginia Tech
OFF
You played nobody last week. Which, coincidentally, is the same thing you ain't done this season.
4. Clemson
L vs Syracuse
Very not good. Admittedly, you lost your quarterback for the second half, but it should've been easy for you guys and you made it so difficult. Fail.
5. Florida State
W vs Duke
I'd say it was just a win over Duke, but hey, a win is a win and you guys needed it in the worst way. Even if you did have a chance to let this one slip away…
6. Georgia Tech
L vs Miami
Blew two 11-point leads built using gift-wrapped touchdowns and then basically shat yourself in coverage to let Miami get in field goal position to win. Gotta learn to hang on.
7. Virginia
W vs UNC
Alright, I'll begrudgingly recognize your brief football success at this time. Congratulations.
8. Duke
L vs Florida State
It's usually hard to move a team up after a loss, but the folks below you basically made me do this. Plus, you didn't get completely blown out even if Cutcliffe forgot how to offense.
9. Wake Forest
OFF
It took me a little time to remember if you guys were on a bye or if I just didn't care enough to see if you actually played someone.
10. Syracuse
W vs Clemson
Eric Dungey said, "No one believed in us." And that remains to be true. We still don't believe in you.
11. Boston College
W vs Louisville
Alright, so here's the rationale…you beat Louisville. And I didn't want to rank Louisville over you. And I couldn't very well move you guys into the Top 10. So, this is my compromise. You're still a dumpster fire.
12. Louisville
L vs Boston College
Do the world a favor and set Lamar Jackson free? You guys are killing him. You are a bad team.
13. Pitt
L vs NC State
NC State took a lead in the second half and you guys couldn't………….ketchup. Get it?! Because Heinz Field…Heinz…Ketchup….Catch up?!?!?
14. North Carolina
L vs Virginia

Woof.